Magnetic Business Card Calendars
THERE ARE 19 COVERS AVAILABLE FOR 2023 – PLEASE CLICK HERE TO VIEW ALL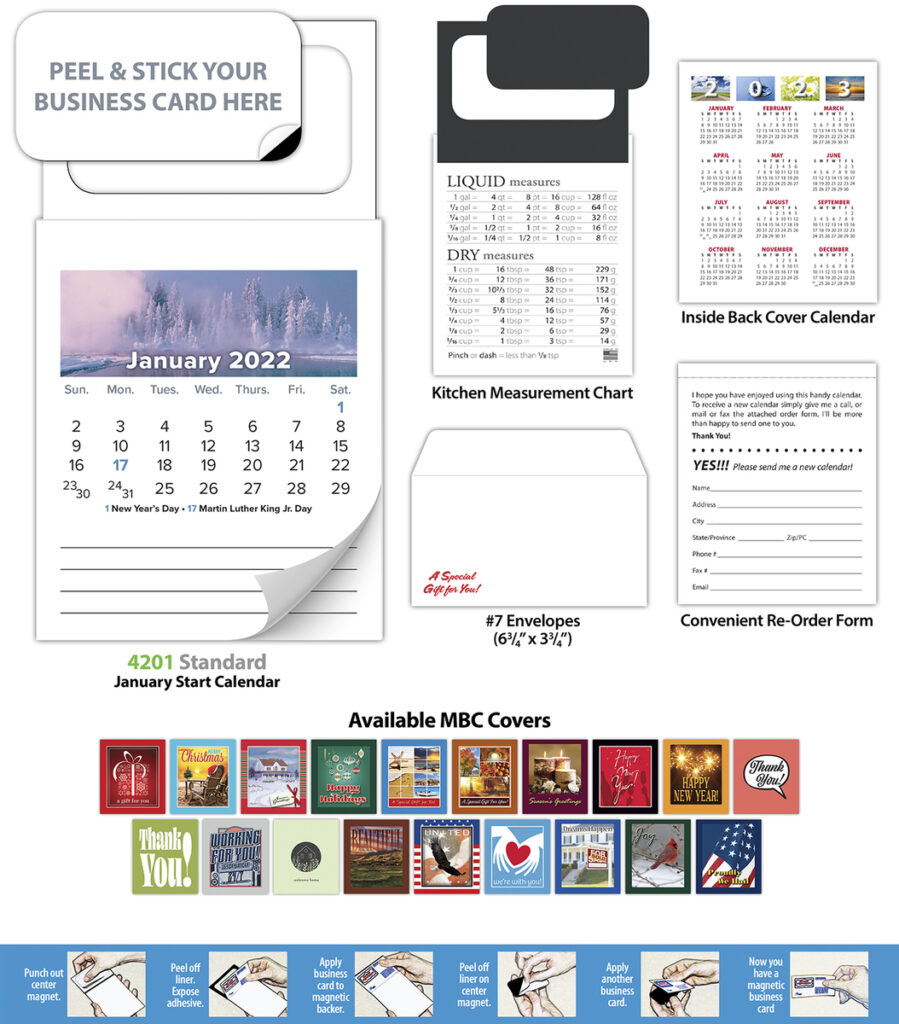 GET YOUR MAGNETIC BUSINESS CARD CALENDAR ORDER IN TODAY!
12 Month Magnetic Business Card Calendar
Prices include 12-month calendar with US and Canadian holidays highlighted, convenient re-order form and next year's calendar on backer card. Kitchen measurements artwork on back of backer card. Calendar magnet with punch-out magnet. Printed "Gift for You" envelopes (#7 size of 6.75×3.75) included. Material is 50 lb. offset white bond only; imprinted in full-color (four-color process).
IF YOU WOULD LIKE MORE THAN ONE COVER STYLE, CHOOSE THE CORRECT QUANTITY FROM THE LIST BELOW AND IN THE "NOTES" SECTION IN PAYPAL LET US KNOW HOW MANY YOU WANT OF EACH COVER (must be in increments of 100)
100 for $0.70 each

200 for $0.70 each

300 for $0.55 each

400 for $0.55 each

500 for $0.46 each

600 for $0.46 each

700 for $0.45 each

800 for $0.45 each

900 for $0.43 each

FOR QUANTITIES OF 1000 OR MORE CHOOSE THIS OPTION AND ENTER THE QUANTITY IN THE SHOPPING CART (MUST BE IN INCREMENTS OF 100)
1000+ for $0.41each
Keep an inventory of magnetic calendars on hand. Everyone uses a calendar. Attach your business card to this 12-month magnetic business card (M.B.C.) calendar and leave a lasting impression with your customer. Your name and contact information will be easily accessible for quick reference.
Magnetic Business Card Calendars have a number of features that make them an economical and practical advertising option for budgets of any size. These calendars also come with an envelope and can be mailed at the standard 1 ounce postage rate. Just punch out the center of the magnet, apply your business card and mail. The punch out can be used to create a business card magnet.